10 Pinterest Tips to Boost Your Business
It is hard to cut through the clutter of millions of others when it comes to achieving the success you desire.
Pinterest offers an a unqiue way that allows you to stand out in a visual way. It's an excellent channel for potential clients to take notice of what you have to offer. We hope that this guide will equip you with some advanced Pinterest tips to help you boost your photography business to new levels.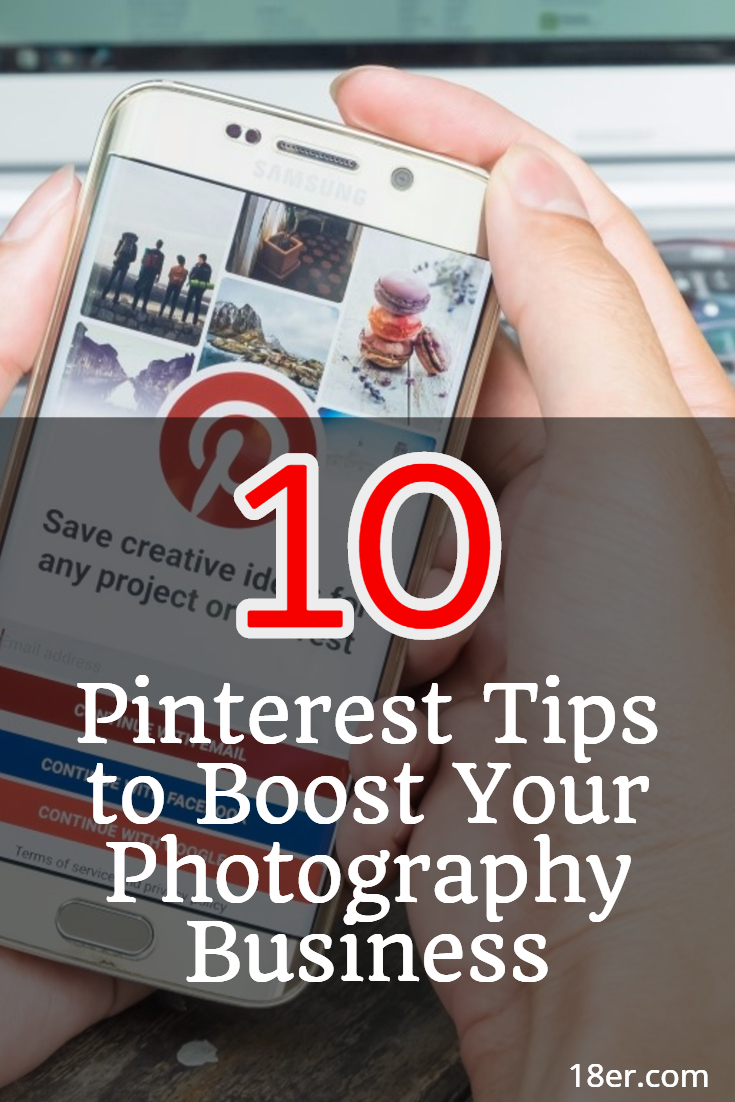 1. Delete Weak Pins
Delete weak pins that have ZERO or ONE pin only. Pinterest's algorithm will favor the remaining ones (ratio of good vs bad) and display them more often. Big traffic gains if your business relies on Pinterest leads. You can read more about that on Sarah's blog.
2. Know Your Audience
This one is a crucial part if you want to market your pins effectively. Pinterest has over 100 million users. According to research, 79% of the users are female while 21% are male. By making a simple search filter on Pinterest, you should be able to target your preferred audience. The best thing about Pinterest is that it has an intuitive search bar. You can use keywords for example "wedding", "engaged" and "getting married soon." There are more keywords that you can come up or use free tools like Google Adwords to do so.
3. Build Your Business Brand Cleverly
If you want to build your photography business brand on Pinterest, you have to reach out to as many pinners as possible. Pay close attention to pinners already following your business because you will be able to draw some invaluable insights from their behaviour. Following what these pinners are evaluating and commenting on can direct you to create visual content resonant with these online trends.
4. Get Your Business Verified On Pinterest
If you're looking to corroborate the professionalism and trustworthiness of your photography business, then get it verified to show pinners that you're serious about what you do. Once your website is confirmed on Pinterest, you will see your profile picture or logo on different Pins that other pinners saved from your board. You will also gain access to specific web analytics brought to you by Pinterest. This can offer you tremendous insight into whether you're doing things right, allowing you to make changes and improvements to the way you use the platform for promoting your business.
5. Make Sure Your Images Are Perfectly Sized For Pinterest
The way you present your photography business images can make a big difference to the way pinners use your information. There are some great strategies to ensure that your images and videos are properly sized for Pinterest, but one of the key ones to remember is to always go vertical because the platform shows pins in columns. Pinterest reveals that the perfect aspect ratio is 2:3 or 1:2:8 with a 600-pixel minimum width.
6. Create Several Pin Boards
Too many photographers make the mistake of pinning just one photograph on Pinterest at a time. But this is the work of novices. How does this make you stand out from everyone else? It doesn't! Instead, a better idea is to capture a collection of images from a photo shoot for placing in a storyboard format. This creates a visual repertoire for your customers to enjoy.
7. Always Include Rich Pins
When Pinterest first started, there was just one type of pin. This has now evolved into six versions, known as rich pins. Rich pins effectively help you add more information to the pins you upload for your photography business page. This happens once you enable rich pins for your website. The six versions of rich pins are – places, products, movies, apps, articles and recipes, which you can set up. You may add rich pins from your own professional photography website by including Meta tags and other codes before setting them up on Pinterest.
8. Write Keyword-Dense Image Descriptions for Better Relevance
Your Pinterest images must be helpful, useful, positive and actionable to resonate with your target audience. This means that you should ensure that you write keyword-dense image descriptions related to what people are actually looking for online. This involves a lot of research, but the results are worth it when you see your number of followers spiking. When describing images, use proper capitalizations and avoid hash tags. Avoid overtly selling pitches because your readers will just turn away without getting any value. Great pins are beautiful, interesting, action-worthy and SEO ranked. This guide helps you optimize keyword descriptions for Pinterest.
9. Pins for Pinterest Promotions
People love free stuff and promotions that allow them to take advantage of savings. At the end of the day, your goal is to have buying customers who are interested in one of your photography services. Creating pins with special promotions especially for customers who want to buy is a great way of attracting and developing long lasting relationships. You can also create special promotions for people who follow your Pin boards like a free photo session or discount on any photo session. In order to continue attracting more followers who will be converted into customers eventually, change the special promotions time and time again. This helps to encourage followers and customers to continue checking your pin board. This works best for portrait photographers who are looking for repeat clients. You can even create special promotions on a special holiday.
10. Establish A 'Pin Now Read Later' Link
When sharing a new blog post or image to your blog or social media, you can give readers the option to check it out later through a ''pin now read later'' link – giving your readers the option to catch up with your content at their leisure. Once you publish a new article, grab the URL from the pin and share this as a 'pin now read later' link. The reader can then add this pin to their boards and read it later. You'll likely notice higher engagement for your photograph business.
11. (bonus) Make Sure Your Website And Blog Posts Have 'Pin It' Or 'Save' Buttons
If you are looking to drive traffic through Pinterest, then make sure you have 'pin it' or save buttons on your website and blog posts. This has become a must for every business because it allows readers to pin your posts to Pinterest – making it visible to more readers. Once you install this save button, your work is literally over from a technical point – allowing your readers to pin valuable content from you. You can choose the image hover button, the any image button or the one image button based on your expectations for your photography website
If you are looking to promote your photography business to win more clients, make sure you follow these advanced Pinterest tips to bring more visitors and customers to your website. I've implemented these strategies and found them highly useful. I hope you do too! If you enjoyed reading this list, let me know by sharing your comments. If you loved the article, share it with your friends, family and social network to pass on this exhilarating knowledge to others.
About 18er
We offer the simplest and most powerful social media management tool.
As your business grows, managing your social media accounts can quickly become a tedious and time consuming job. We are here to make sure that this doesn't happen.
Our goal is to make it simple, quick & fun so you can focus on nothing but growing your business.
It's free. No hidden fees. No contracts. Cancel anytime.